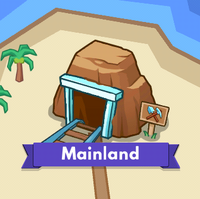 You need 7.14ac normal Cash to unlock the Mainland Continent.
The Mainland Mines have 12 locations and each location has 15 levels (mines). You play them in order to unlock the next level (mine) and finally to unlock the next location.
At each level (mine) you earn different-colored Gems which are all used with the Super Managers.
Requirements to Play:
To play the Mainland Mines you need to have unlocked the continents (excluding Grass Continent) for that Mainland location.
The continents required to play is also the type of "CASH" you need to buy the Mines.
You can replay these mines at any time if you want.
Current Mainland Locations:
Treasure Coast (Levels 1-15)
Gold Rush Creek (Levels 16-30)
Lost Kingdom (Levels 31-45)
Forgotten Trail (Levels 46-60)
| Level | Start | Ice | Fire |
| --- | --- | --- | --- |
| 46 | 10as | | |
| 47 | 100as | | |
| 48 | 1at | | |
| 49 | 10at | | |
| 50 | 100at | | |
| 51 | | 10as | |
| 52 | | 100as | |
| 53 | | 1at | |
| 54 | | 10at | |
| 55 | | 100at | |
| 56 | | | 10as |
| 57 | | | 100as |
| 58 | | | 1at |
| 59 | | | 10at |
| 60 | | | 100at |
Raging River (Levels 61-75)
| Level | Start | Ice | Fire |
| --- | --- | --- | --- |
| 61 | 1au | | |
| 62 | 10au | | |
| 63 | 100au | | |
| 64 | 1.9av | | |
| 65 | 28av | | |
| 66 | | 1au | |
| 67 | | 10au | |
| 68 | | 100au | |
| 69 | | 1.9av | |
| 70 | | 28av | |
| 71 | | | 1au |
| 72 | | | 10au |
| 73 | | | 100au |
| 74 | | | 1.9av |
| 75 | | | 28av |
Final Checkpoint (Levels 76-90)
| Level | Start | Ice | Fire |
| --- | --- | --- | --- |
| 76 | 370av | | |
| 77 | 460av | | |
| 78 | 5.5aw | | |
| 79 | 6.4aw | | |
| 80 | 10.9aw | | |
| 81 | | 370av | |
| 82 | | 460av | |
| 83 | | 5.5aw | |
| 84 | | 6.4aw | |
| 85 | | 10.9aw | |
| 86 | | | 370av |
| 87 | | | 460av |
| 88 | | | 5.5aw |
| 89 | | | 6.4aw |
| 90 | | | 10.9aw |
Icy Mountain (Levels 91-105)
Victory Peak (Levels 106-120)
Eternal Glacier (Levels 121-135)
Uncharted Tundra (Levels 136-150)
Pioneer Prairie (Levels 151-165)
Mystic Canyon (Levels 166-180)
Azure Waterfall (Levels 181-195)