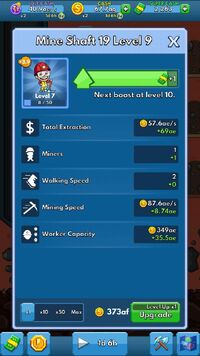 The mine shafts are one of the core features of Idle Miner Tycoon. You mine your resources (and therefore Cash ) from the mine shafts.
The Cash which your miners collect is stored on the left of each shaft, where it will be collected by the Elevator .
Every upgrade increases the total extraction, mining speed and worker capacity. At level 10, 50, 100, 200 and 400 each shaft also gains an additional worker. The maximum amount of workers is 6. The maximum level of each mine shaft is 800.
You can collect Collectibles from chests which give you extra bonuses in the mine shafts. Your currently-selected bonus is shown in the orange circle in the top-left corner of the mine shaft picture, as shown here!
Barriers
Every so often, you will see a barrier blocking the next possible mine shaft. 
To unlock the barrier, you can let it unlock for the amount of time it says. Alternatively you can watch ads to reduce the time, or you can use Super Cash to immediately unlock the barrier.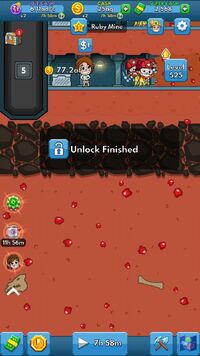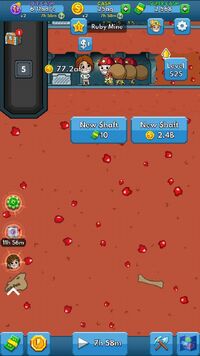 Once the barrier is unlocked, you can open the next mine shaft like normal
- with Cash or Super Cash.
Trivia
In Mainland Mines, Event Mines,Impossible Island Mines, and Continent mines before prestige 5, the number of mineshafts is 30.
In Continent mines after prestige 5, the number of Mine Shafts is 35, but the cost jump from Mine Shaft 30 to 31 is so significant(mineshaft 31 in the start continent costs 29.2bg while 30 only costs 2.2 ar cash) that even with Gordon's level 30 passive promoted and maxed mine shaft 30, it will still be a grind to unlock mineshaft 31.
Mine shafts from 31 to 35 are called core shafts. Before being unlocked, they have a yellow, sand-like appearance.